The Senshu Social Well-being Review
Aims and Scope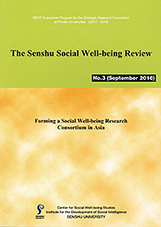 The Senshu Social Well-being Review is a peer-reviewed annual journal published by Center for Social Well-being Studies at Senshu University. It intends to provide a platform for sharing a wide range of findings and knowledge on social well-being with the academic and non-academic audience. It especially invites papers on up-to-date issues with substantial implications for international and domestic policies. Any individuals across the globe are welcome to submit their manuscripts for review.
Manuscript Submissions
A manuscript can be submitted anytime. Please send all the required files in the next section (1 to 3) to swbpaper@ml.senshu-u.ac.jp. The journal is published annually in December. The deadline of acceptance decision for each volume is the end of September. It takes about two months on average for reviewing a manuscript. Should you have any questions, mail to swbpaper@ml.senshu-u.ac.jp.
Required Files for Submission
Template files which contains all the required files below are available here.
Title Page

Title, subtitle, authors' names and affiliations, and word count.
Agreement to publish your paper in Senshu University Institutional Repository once accepted.
Name, address, and e-mail address of the corresponding author.
Short biographies of all authors.
[If any] Acknowledgments, credits, grant number and so on.

Manuscript

Authors' names and other identifying information should NOT be included in the manuscript.
An abstract of 150 to 200 words.
Three to five keywords.
Main text counts to 10,000 words or less including notes and references, not including tables and figures.
Tables and figures for printed (gray-scaled) and for online (colored) version if needed.

Original Files of Figures

Excel, postscript, pdf, bitmap, and/or metafile of all figures appeared in the main text. Contact swbpaper@ml.senshu-u.ac.jp if you want to use other formats.
Manuscript Style
The style of The Senshu Social Well-being Review is in accordance with American Sociological Association Style Guide. 6th ed. (American Sociological Association. 2019. American Sociological Association Style Guide. 6th ed. Washington DC: American Sociological Association.). Please check your manuscript before submission if it is written in line with the style. It would be a good idea to refer to the recent issues of American Sociological Review.
Editorial Board
Editor
Masayuki Kanai
Senshu University
Japan
Deputy Editors
Jun Oyane
Senshu University
Japan
Keitaro Yazaki
Tainan University of Technology
Taiwan
Editorial Board
Hiroo Harada
Senshu University
Japan
Katsumi Shimane
Senshu University
Japan
Satoshi Kambara
Senshu University
Japan
Takeko Iinuma
Senshu University
Japan
Naomi Suzuki
Senshu University
Japan
Tatsuo Komorida
Sophia University
Japan
International Advisory Board
Hiroo Harada
Senshu University
Japan
Shujiro Yazawa
Hitotsubashi / Seijo University
Japan
Hyun-Chin Lim
The National Academy of Sciences, Republic of Korea
South Korea
Jaeyeol Yee
Seoul National University
South Korea
Dang Nguyen Anh
Vietnam Academy of Social Sciences
Vietnam
Surichai Wun'gaeo
Chulalongkorn University
Thailand
Vithaya Kulsomboon
Chulalongkorn University
Thailand
Emma Porio
Ateneo de Manila University
The Philippines
Paulus Wirutomo
University of Indonesia
Indonesia
Iwan Gardono Sudjatmiko
University of Indonesia
Indonesia
Francisia SSE Seda
University of Indonesia
Indonesia
All Issues
No.7 (2020)
Commentaries
Phan Cao Nhat Anh
Promoting Female Participation in the Labor Market in Vietnam and Japan
Kiyohisa Shibai
Research on Different Happiness Factors in the Asia-Pacific Area: Economics, Politics, and Social Capital
Aguru Ishibashi
Model Construction Using a Prospective Approach Based on the Demographic Transition Theory
Translation
Hiroo Harada
Response to COVID-19 in Japan: Challenges and Recommendations
No.6 (2019)
No.5 (2018)
Articles
Kiyohisa Shibai
Behind the Shadow of Coming War: An Experimental Test for Antiwar Sentiment
Keitaro Yazaki
Sympathy or Tolerance? A Comparison of the Effects of Trusting Most People and Trusting Strangers in Asian Societies
Paulus Wirutomo, Evelyn Suleeman, Daisy Indira Yasmine, and Riena J. Surayuda
The Condition of Societal Well-Being: A Comparison of Indonesia and South Korea
Hiroko Osaki
Does Trust Moderate the Effect of Relative Income on Happiness?
Hiroo Harada and Eiji Sumi
The Happiness and Relative Income Hypothesis in Contemporary Japan: A Study of Lifestyle and Values
Jun Kobayashi and Dolgion Aldar
Inequality of Well-being in Asia: A Comparative Analysis of Happiness in Eight Countries
Francisia S.S.E. Seda, Lugina Setyawati Setiono, Yoseph Hilarius Timu Pera, Rika Febriani, Muhammad R. Damm, and Kevin Nobel Kurniawan
The Paradox of Relational Well-Being: A Comparative Study of South-East and East Asian Countries
Iwan Gardono Sudjatmiko, Lidya Triana Aly, Roy Ferdy Gunawan, Tiara Wahyuningtyas, and Rangga Ardan Rahim
Social Well-being, Religion, and Suicide: A Comparison of Japan and Korea with Thailand and Indonesia
Commentaries
Ming-Chang Tsai, Yow-Suen Sen, Yi-fu Chen, Tsui-o Tai, Hsiu-Jen Yeh, and Chin-Hui Liao
International Comparative Survey on Lifestyle and Values: A Report on the Taiwan Survey
Paulus Wirutomo, Iwan Gardono Sudjatmiko, Francisia S.S.E. Seda, Lugina Setyawati, Evelyn Suleeman, Daisy Indira Yasmine, Yosef Hilarius Timu Pera, and Roy Ferdy Gunawan
The Social Well-Being Survey in Indonesia
No.4 (2017)
Articles
Seokho Kim and Jaeun Lim
Patterns of Social Support Networks in Japan and Korea
Francisia SSSE Seda, Lugina Setyawati, Yosef Hilarius Timu Pera, Timoti Tirta, and Pebriansyah
Policies, Social Exclusion, and Social Wellbeing in Indonesia and Malaysia
Special Issue on 2017 ISA RC55 Mid-term Conference
Georg P. Mueller
Gender Inequality under Different National Welfare Regimes: An Empirical Evaluation with Entropy Measures from Information Theory
Eva Lelièvre, Sophie Le Coeur, Léonard Moulin, and Nicolas Robette
Happiness, Health, and Well-Being in a Life Course Perspective: Quantitative Data Collection and Analysis of Sequences of Subjective Indicators
Ruut Veenhoven
Happiness Research: Past and Future
Commentaries
Surichai Wun'gaeo, Surangrut Jumnianpol, Nithi Nuangjamnong, Pinwadee Srisupan, and Montakarn Chimmamee
Social Well-Being in Thailand 2016: Survey Report
Emma Porio and Justin See
Social Well-Being in the Philippines: Indicators and Patterns
Dang Nguyen Anh
Social Well-Being in Vietnam: Designing and Preliminary Results from a Sampling Survey
No.3 (September 2016)
Articles
Hiroo Harada
Happiness in Japan: From the Viewpoint of Age, Sex and Relative Wealthiness
Yuichi Marumo
Visualization of Cognitive Process about Income Gap in Japan: Model Constructions Using SEM and Mutual Relations among Respondents' Attributes
Hearan Koo,
Jaeyeol Yee,
Eun Young Nam,
Ee Sun Kim
Dimensions of Social Well-being and Determinants in Korea: Personal, Relational, and Societal Aspects
Jaeyeol Yee,
Hyun-Chin Lim,
Eun Young Nam,
Do-Kyun Kim,
Ee Sun Kim
Survey Design and Descriptive Outcomes of Korean Survey
Iwan Gardono Sujatmiko,
Indera Ratna Irawati,
Pattinasarany,
Ganda Upaya,
Risa Wardatun Nihayah
Social Well-being Research and Policy in Indonesia
Paulus Wirutomo
Dealing with Brawls in Jakarta's Slum Area: Pursuing Social Development through Social Engagement
Jun Oyane
Community Reconstruction from Flooding in Quang Phuoc Commune, Central Vietnam
Naomi Suzuki
History and Forthcoming Challenges of Family Care Leave Related Systems in Japan
No.2 (March 2016)
No.1 (March 2015)