School of Human Sciences
Explore human minds, motives, and actions as they co-evolve with the world around them
The School of Human Sciences provides intellectual tools for the lifelong understanding of everything that make us who we are and what we are.
The School of Human Sciences is committed to an empirical, research-based approach to the human mind and the societies we inhabit. Students learn to see the world through the lenses of psychology and sociology, and develop critical thinking skills to understand the intricacies of being, doing, and interacting with others.
The School offers Ph.D., M.A., and B.A. diplomas in psychology and sociology. Both departments boast globally acclaimed faculty research, rigorous training attested by a strong placement record of graduates into employment opportunities and academia, and a spirit of open and creative dialogue. In addition to the accredited degree programs, we offer certificate programs for middle school and high school pedagogy, clinical psychology, and social research.
Department of Psychology
With the freedom to choose courses that cover basic psychology or clinical psychology, we offer a balanced curriculum with a wide-range of options
The study of psychology is divided into two main areas. Basic psychology studies the mechanisms of the human mind and confirms hypotheses through experiments and observations. Clinical psychology, on the other hand, involves the practical aspect of psychology, such as counseling. Our curriculum enables students to systematically study a variety of modern psychological fields, including cognition, learning, development, social psychology, and clinical psychology (which also covers a wide range of secondary subjects).
In addition to counseling training and psychological assessment training, our department provides students with practical learning through facility-led tours and group-work activities. Through this active learning environment, students gain the skills and knowledge necessary to practically, scientifically, and independently assist those suffering from psychological disorders. Accordingly, our program supports students' pursuit of taking national examinations to become certified psychologists.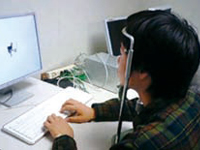 Department of Sociology
Find the answers to your questions about societ y through our curriculum's ‑eldwork and hands-on learning
Our social world is endlessly complex and constantly changing. Amid all this diversity, there are patterns to be found and rules to be discovered. Anyone with a desire to better understand how our societies function will benefit from the critical perspective that sociology offers. The Department of Sociology showcases many related sub-disciplines with courses on the sociology of work, family, media, technology, culture, education, and social welfare, as well as urban and community studies. The coursework for first-year and second-year students enables them to explore various fields before choosing a topic for their mandatory B.A. thesis. Upper-class students work closely with an advisor to conduct research and write their thesis.
Our department is one of the largest in Japan, with approximately 500 students and 16 fulltime faculty, some with international notoriety. Our student-teacher ratio facilitates small class sizes for a more intimate learning environment (with typical seminars comprising of 15 students at most). This provides students many opportunities to participate in thought-provoking discussions with faculty and fellow students. Research practicum courses often include on-site fieldwork where students gain experience by observing, interviewing, and learning how to collect data through various other methods. Our department also has its own computer lab where regression analysis and other quantitative research methods are taught. The sociological knowledge acquired through our exceptional program opens the door to many professions and empowers students to achieve personal development.