Kanda Campus
Kanda Campus
Kanda Campus is located in Jimbocho, a college community in central Tokyo. This urban campus consists of several buildings and provides facilities that are geared towards accommodating graduate students in the Schools of Economics, Law, and Commerce, as well as undergraduate students in the schools of Law, Commerce, and International Communication, as well as those studying in the Professional School of Law.
The Surrounding Area
The Tokyo Dome, the Nihon Budokan, and an abundance of old books and sports stores are located near the campus.
1.KITANOMARU PARK
(5 min. walk)
From late March to early April, hundreds of fully-bloomed cherry trees decorate the moats of the former Edo castle around Kitanomaru Park (located in the heart of Tokyo near Kanda Campus). The path alongside this moat (chidori-ga-fuchi) creates one of Tokyo's most spectacular areas to view cherry blossoms. The trees are even illuminated after sunset so that they can be viewed in the evening. Inside Kitanomaru Park is the Nippon Budokan, which a famous arena in Japan that hosts various musical performances and athletic events. It is also the venue for Senshu University's graduation ceremony in March and entrance ceremony in April. The imposing octagonal structure stands 42m (140 ft.) high and holds approx. 14,000 people.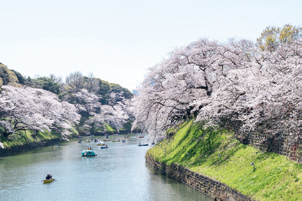 2.KANDA BOOK TOWN
(1 min. walk)
The area around Kanda Campus (known as Jimbocho) is famous for its large amount of used bookstores (koshoten-gai), which sell everything from comics to encyclopedias. Each store is packed with piles of classic and obscure novels, all sold at reasonable prices and sometimes in bundles. By chance, you may even find some rare books.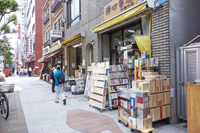 3.AKIHABARA
(10 min. by train)
Known as one of the most famous electric towns in the world, Akihabara has gained recognition as the center of Japan's "Otaku" culture. There are many establishments devoted to manga, anime, and video games that can be explored.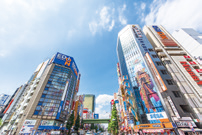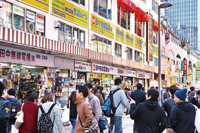 7 minutes' walk from JR Suidobashi Station
3 minutes' walk from exit 5 of Kudanshita Station (subway lines: Tozai, Toei Shinjuku, Hanzomon Lines)
3 minutes' walk from exit A2 of Jimbocho Station. (subway lines: Toei Mita, Toei Shinjuku, Hanzomon Lines)