Map & Guide to the Kanda Campus
Kanda Campus
Kanda Campus is located in Jimbocho, a college community in central Tokyo. This urban campus consists of several buildings and provides facilities that are geared towards accommodating graduate students in the Schools of Economics, Law, and Commerce, as well as undergraduate students in the School of Law, Commerce,International Communication, and those studying in the Professional School of Law.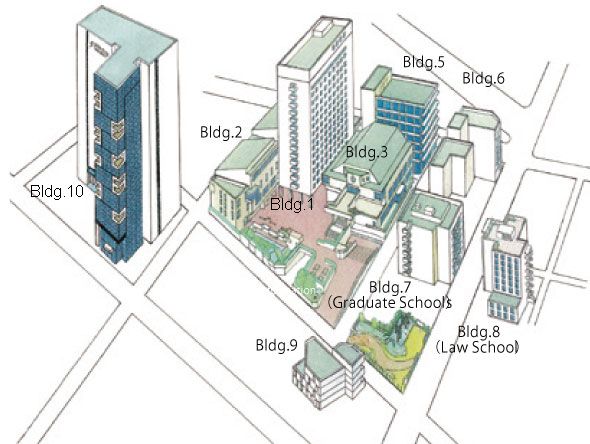 Building No. 1, 2, and 3
Exercise Room, Student Cafeteria, Student Accommodation, Classrooms, Information Desk, Moot Court Classroom, General Affairs Office, Llibrary, Student Welfare Office, Registration & Curricula Office, Faculty Offices, Evening Division Administration Office, Student Health Center, Seminar Rooms, Information Science Center, Graduate School Classrooms, Graduate School Research Laboratories, Conference Rooms, Research Facilities, Discussion Rooms, Coffee House, Auditorium
Building No.5
Student Hall, Admission Office, Extension Center Administration Office, Athletics Office, Multi-purpose Hall, Classroom, Graduate School Research/Classroom, Sendai Century Co., Ltd. (University Publishing Office, etc.)
Building No.6 (Senshu Daigaku Kaikan)
Admissions Information Center, International Conference Room, Alumni Office, Benefactors Office, Personnel Office, etc.
Building No.7
Graduate School Administration Office, Graduate School Classrooms, Library Annex, Job Placement Office, Intelligence Lounge
Building No.8
The University Attached Law Firm, Moot Court Classroom, Conference Rooms, Imamura Memorial Hall, Law School Administration Office, Classrooms, Laboratories, Students Lounge, Teaching Staffs' Room, Library, Information Terminals Office, Studies, Rooftop Garden.