Ikuta Campus
Ikuta Campus
Located in one of the more natural, lush areas of Greater Tokyo, yet 25 minutes away from the world's busiest train station (Shinjuku), Ikuta Campus sits on top of a steep hill with a commanding view of the city. The campus provides the latest academic and physical education facilities, reflecting our commitment to the pursuit of the ideal university education. Undergraduate and graduate students in the schools of Economics, Business Administration, as well as undergraduate students in the schools of Letters, Network & Information, and Human Sciences (including graduate students in the School of Humanities) study at Ikuta Campus.
The Surrounding Area
The Nihon Minka-en a collection of Japanese traditional houses, and the Okamoto Taro Art Museum are located near the campus.
1.SHINJUKU (Metropolitan Area)
(25 min. by train)
Shinjuku is a special ward in Tokyo that serves as a major commercial and administrative center. It houses the busiest railway station in the world (Shinjuku Station, which accommodates over 3 million passengers daily) as well as the Tokyo Metropolitan Government Building (which has an observation deck on the top floor that's free to the public). Shinjuku is famous for its entertainment, shopping, and night life.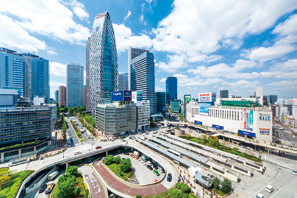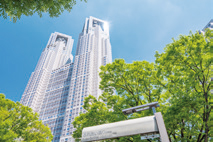 2.IKUTA GREEN PARK
(5 min. walk)
Ikuta Green Park (ikuta ryokuchi) is one of the most cherished areas in all of Kawasaki. Surrounded by wooded areas filled with various oaks trees and vegetation, the park is located in the gently undulating Tama Hills. There are many varieties of seasonal flowers, such as the cherry blossoms on top of Mt. Masugata and the 1,200 Irises in the Iris Garden, as well as Hydrangeas, Camellias, Roses, and Azaleas in the Citizens' Flower Garden. Along with its nature and nature trails, the park is also home to the Taro Okamoto Museum of Art, the Japan Open-Air Folk House Museum (nihon minkaen) and the Kawasaki Municipal Science Museum (which has a planetarium). Near the park is the Fujiko F. Fujio Museum (informally known as the "Doraemon Museum"), which is a fanciful art museum based on the work of Fujiko F. Fujio (nom de plume of manga artists Hiroshi Fujimoto, one of the creators of Doraemon).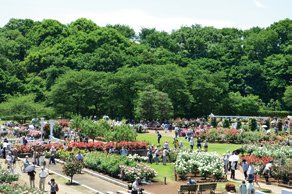 14 minutes' walk from the south exit of the Mukogaoka-Yuen Station on the Odakyu Line.
10 minutes by bus (for Senshu-daigaku-mae) from the north exit of the Mukogaoka-Yuen Station.
35 minutes by bus (for Mukogaoka-Yuen) from Azamino Station on the Tokyu Den-en-toshi Line or the Yokohama Municipal Subway line to Senshu Daigaku / Kawasaki Golf-jo Iriguchi Bus Stop or Senshu Daigaku 120-nen Kinenkan-mae Bus Stop.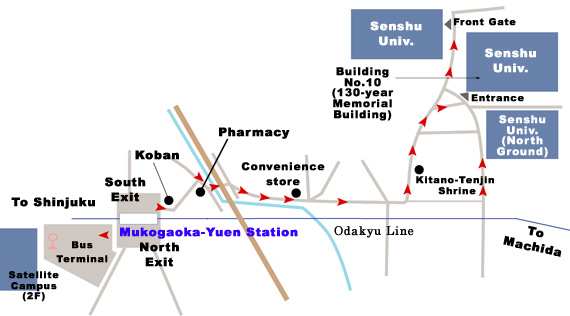 Satellite Campus
1 minute walk from the north exit of the Mukogaoka-Yuen Station on the Odakyu Line.