School of Network and Information
Come discover our wide range of research and courses that cover everything from informatics to scientific disciplines
Come discover our wide range of research and courses that cover everything from informatics to scientific disciplines
The research and courses conducted in the School of Network and Information cover a diverse amount of topics, from general informatics to specific scientific fields that include computer science, data science, and practical information technology that's used to design solutions to the social issues we currently face. Teachers in the School of Network Information come from a variety of academic disciplines yet work together to create exciting curricula for students and conduct research that improves how businesses, communities, and schools communicate.
A notable feature found within all of our curricula is the opportunity for students to act ively take on projects and research based on their own personal interests. Furthermore, each curriculum has been systematically devised for students to build upon their previous knowledge and naturally progress through each academic year. The courses offered within these curricula equip students with practical skills that enable them to play an active role in society immediately after graduation.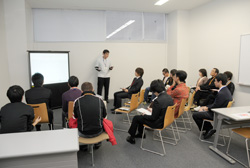 Acquire the ability to create and transmit valuable content worldwide as a specialist in informatics
With advances in informatics and information technology rapidly increasing, technologies and ideas that did not exist when the School of Network and Information was established in 2001 are now being used by the average consumer via devices such as computers to smartphones.
Being able to optimally use these technologies requires students to have a solid understanding of fundamental computing, a wide perspective in regards to current technologies, and a willingness to discover new technologies in order to meet the world's needs.
Accordingly, the School of Network and Information prepares students by teaching them fundamental theories of computing. As students progress through the curriculum, they participate in varying projects and exercises that provide them with the skills and knowledge to express complex information effectively. Throughout all of our courses, students also develop the ability to create new and valuable ways for information technology to further contribute to society, and in turn, help solve real-world problems. The School of Network & Information is the arena where students hone their IT skills in preparation for the future.
Department of Network and Information
Become an IT professional that contributes to society through the use of advanced informatics
In an era where various social issues require use of IT, the Department of Network and Information endeavors to foster IT professionals than can apply their computer skills and knowledge of advanced technology to solve these social issues. Our curriculum offers a practical education that coincides with students' various personal interests.
In students' third year of study, they have the opportunity to complete a project that incorporates their interests and understanding of IT with student-centered group work. The experience of learning to work as a team and the results gained through this project (along with the education provided in the 2 core curricula and 6 related programs) equip students for their future careers. Students who undergo our four year curriculum will also develop automaticity (the ability to learn on one's own) and be able to apply their IT skills to benefit the future.
Select from 2 core curricula and 6 different programs to develop your IT skills
Starting in 2019, the School of Network and Information was renovated to comprise of 2 curricula with 6 different programs under a single department. In students' first year, they will learn about the general fundamentals of informatics. However, from their second year onwards, students can either enroll in the "S Course" curriculum, which involves analyzing and solving problems based on data and mathematics, or the "D Course" curriculum, which focuses on solving problems based on communication with users.
Naturally, the "S Course" includes courses on data science and network system programing while the "D course" includes courses focused on design, media communication, physical computing, and IT business programs. Each curriculum enables students to further develop an expertise in their fields of interest in preparation for their future careers.