School of Law
Work on solving social problems with creative ideas and a global perspective
In 1880, the School of Law got its start as the first school to offer law courses in the Japanese language. As one of the five major law schools during the Meiji era, it has played a leading role in Japan's establishment of a modern law-governing state. Located on Kanda Campus and in close proximity to the National Diet Building, Supreme Court of Japan, and various Ministries of Japan, students in the School of Law can carry forth its history and traditions by learning about law and politics near where it all takes place.
In the course of four years, students acquire an expertise in law and politics, both of which form the basis of modern society, and develop into citizens who can creatively work on solving social problems using these newly acquired skills and knowledge.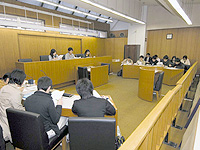 Department of Law
Widen your perspective and develop your creativity to foster a "legal mindset "
Law exists for the purpose of protecting people's rights and upholding a society where individual freedoms live in harmony. Those with this mindset posses a "legal mind". In the Department of Law, we develop and broaden students' perspective and creativity to foster a legal mind, and in turn, become experts in law for future society. In the first year, students will expand their horizons by cultivating academic skills learned at the university while also actively taking classes on liberal arts subjects (such as logic and philosophy). These classes are small and group-oriented in order to offer students a personalized education, such as the "Introduction to Senshu University Seminars" class. In general, students in their second year will further their learning by choosing a course model with their future career in mind.
Students can choose a model that suits their aptitude and future goals, giving them a wider picture of their career in law as a profession, whether as an employee of a corporate legal department or as a civil servant.
Department of Politics
Develop your ability to think independently about politics through our ­exible curriculum and small class sizes
The Department of Politics studies political theories and history, as well as contemperary issues such as economic disparities, ethnic conflicts, and international terrorism which have become topics of discussion worldwide. The aim of our curriculum is to nurture students who can contribute to the public good with their own personal values and ability to create policy based on their study of political science. The main features of this department are its easy-to-learn curricula that span six-month intervals from their first year to their fourth year and small class sizes to create an optimal learning environment. The selection of courses students have in their second year not only provides them with the basics of professional studies in political science, but enables them to choose courses based on their other interests as well. This flexible curriculum allows students to expand their learning to various areas while maintiaining a political science mentality.