School of Economics
Learn how to prepare for the future
As the first school of economics ever established in Japan, the current School of Economics is descended from the Department of Economics founded as a part of the precursor to Senshu University (known then as Senshu Gakko). Proud of its tradition, the School of Economics has always provided cutting-edge academic research and a curriculum that emphasizes approaching issues from multiple angles.
Starting in 2020, the School of Economics will comprise of three departments. The renewed Department of Economics will incorporate a more systematic study of economics that aligns with modern standards and globally-accepted theories, while the Department of Economics for Life and Social Environment will include "Lifestyle Economics", which looks at how to improve our own quality of life from an economic viewpoint. Lastly, the Department of International Economics will analyze international economic activity by integrating foreign language study with the study of economics. Senshu University's School of Economics aims to develop students into future business leaders that apply their knowledge of economics for the betterment of society.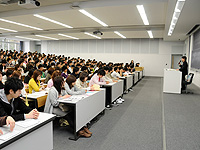 Department of Economics
Study globally-accepted economics and statistics to become a contributing member of society
After studying standard micro- and macro-economic theories, as well as statistics as a tool of empirical analysis, students will develop their skills to analyze economic issues they are interested in using data. Students can choose from one of our four programs: "Economic Policy", "Business and Industry", "Money, Banking and Finance" and "Economic Theory". Each program systematically deepens students' understanding of issues in these areas. They can also develop their ability to make presentations and communicate with others during intimate and active seminar-based sessions. There is a recent trend worldwide to analyze human interaction and relationships using economics and statistics, and through their application, formulate evidence-based government policies and cooperate strategies. By obtaining such specialized skills, graduates better discover their roles in society and how they can contribute to make it better.
Department of Economics for Life and Social Environment
Acquire the abilit y to discover and solve problems associated with economic and social changes
In the Department of Economics for Life and Social Environment, students will learn topics about contemporary changes in the world that closely relate to our economy and society, such as economic studies of regions, cities, nature, welfare, workplaces, and employment, all while acquiring the basics of economic theory, history, and policies. With this economic-based approach to learning, students will also develop professional skills that can be applied when responding to such changes brought on by economic and social fluctuations, and in turn, work towards improving the quality of human life.
After graduating from the Department of Economics for Life and Social Environment, students will have the skills to join a private company or non-profit organization that engages in such areas as the development and planning of new business, the management and operation of economic activity, and producing solutions to contemporary issues. Graduates will be expected to become citizens that promote and create civil policies that benefit society.
Department of International Economics
Gain in-depth knowledge of the global economy by developing your understanding of worldwide economic issues and foreign language skills
In order to understand the modern world economy, one needs to learn international economic theories and how to examine the realities of the international community, such as transnational economic mechanisms, global environmental challenges, persisting inequalities around the world, and international measures and collaborations. The Department of International Economics offers students a number of opportunities to learn from first-hand experiences, such as the department's special courses on overseas "fieldwork" and "NGO studies". Furthermore, foreign language courses, such as English, German, French, Chinese, Spanish, Korean, and Russian, are offered as specialized subjects along with liberal art subjects. The economic insights and language skills acquired in the Department of International Economics provide a gateway to success in a global society.