School of Commerce
The School of Commerce provides a stage for students to give their best performance
The School of Commerce originated in 1905 as the "Department of Commerce". Like its contemporaries founded during the same era, it has been a pioneer in groundbreaking research and education relating to commerce in Japan. During the Taisho era (1912–1926), the School of Commerce established an accounting department to train accountants (currently known as "certified public accountants"), and became famous as a specialty school for accounting. Even now, the School of Commerce still boasts some of the most experienced teachers in Japan and is one of Japan's leaders in developing education and research standards for marketing, accounting, and other fields. In 2020, the School of Commerce moved to Kanda Campus in the center of Tokyo.
The School of Commerce is a learning environment in which students can study the mechanisms that make up a business, whether it's people, goods, money, or information. By gaining a fundamental understanding of basic business practices, students are able to develop practical reasoning skills based on logic and international perspectives through our curriculum's focus on "Sustainable Development Goals". Also known as SDGs, this business concept emphasizes the value of sustainability and diversity. We make it a priority to instill these values in each student, for we believe that students who value sustainability and diversity will go on to create a better tomorrow.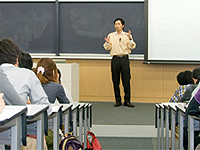 Department of Marketing
Become a business-minded individual who can anticipate change and take the right course of action
The Department of Marketing is a place where students can study business from both theoretical and practical aspects while also focusing on their own interests and career paths after graduation. We pride ourselves in teaching students how "business intelligence = social intelligence in the business world". By developing this mentality among students, we are able to produce individuals with the knowledge and skills to work in various fields. In recent years, the introduction of active learning and the four-course system have increased students' ability to become specialists on a wide-range of subjects as well as learn to anticipate changes and future trends. Coinciding with our university's vision of developing socio-intelligence, we aim to develop individuals who can realize that vision to its fullest potential.
Department of Accounting
Gain access to both traditional education and cut ting-edge research in order to become the accounting professional companies desire
The Department of Accounting has been conducting research and educating future accounting professionals since it was established as the "Accounting Department" in 1917. To date, we have produced countless qualified professionals and researchers, including both certified public accountants and tax accountants. Accordingly, all accounting subjects are arranged in order to cover themes found in current accounting research. Students in this department can take advantage of our systematic methods for studying each area of accounting with access to our course models that enhance students' expertise and help plan their future careers. With a curriculum that focuses on both quality and quantity, students become equipped with the knowledge and skills necessary to pursue challenging certification exams such as booking level 1, certified public accountant exams, and tax accountant exams. With accounting being the language of business, it is our goal to produce as many qualified accounting professionals as we can in an effort to better support our global economy.