Library
The Senshu University Library has two sites; the Main Library and the Ikuta Branch Library which are both on the Ikuta Campus and the Kanda Branch Library and the Law School Branch Library on the Kanda Campus. They contain approximately 1.82 million books and subscribe to more than 21,000 periodical titles. They have access to databases both on-line and CD-ROM, or through campus network. Information on the materials contained in the libraries can be retrieved via OPAC (Online Public Access Catalogue) on the Internet, and most materials are kept on open shelves to meet the needs of users.

The Main Library houses materials in a wide range of fields, especially those on the humanities and social sciences. It has a spacious area designated as the Browsing Plaza where users can read journals as well as newspapers and is also equipped with group reading rooms and carrels. It also has a large amount of audio-visual materials, which are available in the audio-visual area.

The Ikuta Branch Library was opened in 2001 and makes it possible for undergraduates to read reserve books recommended by their teachers. It is equipped with reading rooms, and contains not only books on history, travel, sport, and arts, but also foreign books on Japan.

The Kanda Branch Library located in Kanda Jimbocho, Tokyo mainly houses books on law and politics, as well as legal papers donated by Rikisaburo Imamura, the former chancellor of Senshu University. They include materials on legal cases like Taigyaku Jiken.

The Law School Branch Library was opened in 2004, mainly provides services to students in the Law School. It boasts vast databases which enable easy access to materials on laws, bills and legal cases.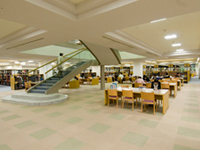 Collection
Michel Bernstein Collection
This is Michel Bernstein's collection of the French Revolution. It is comprised of approximately 43,500 items, consisting of proceedings of the committees of the Revolution, bills and ordinances, brochures (pamphlets), manuscripts and caricatures published during the same period.
The university library offers online catalog and most of the above-mentioned information can be accessed via OPAC(Online Public Access Catalogue).