Extension Center
Significant feature of Senshu University is the broad range of extracurricular programs organized through its extension center. As the term extension implies, the extension center plays a role in opening the university's research and lectures to the general public as well as students. The extension center also provides opportunities for highly motivated students to study something beyond their coursework or to develop their potential abilities.

Courses provided by Senshu University's extension center are classified into two categories by goal: general education and qualifying exam preparation.

General education consists of various language courses and a wide range of open courses designed to make the university's academic expertise available to members of the general public who want to acquire professional knowledge or seek lifelong education. Many such open programs have successfully provided lifelong learning opportunities for the general public.

Qualifying exam preparation includes courses in introductory law, the civil service examination, and CPA examination. These courses are offered in conjunction with well-reputed independent preparatory schools so that students can get a high level of education equivalent to that available in such independent schools for an exceptionally low fee.

All these courses can be taken regardless of one's major, so students can pursue their interests or develop their potential by taking advantage of these opportunities.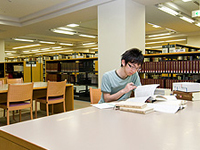 Qualifying Exam Preparation courses include the following:
Introductory Law Course, Civil Service Exam Preparation Course, CPA Exam Preparation Course, Real Estate Transaction Manager Exam Preparation Course, Secretary Exam Preparation Course, Chinese Proficiency Level-3 Exam Preparation Course and TOEIC(R) Course
Cultural Studies and Lifelong Education courses include the following:
English conversation course, Courses organized in partnership with local governments, "Introduction to History: Ancient East Asia world and Japan and China", "The Terakoya VII ? reading ancient documents"